---
The Print Collection in the Rare Books and Special Collections Division comprises more than 11,000 original prints representing a wide range of subject matter, styles, and techniques. The major strengths of the Collection are prints on Napoleon and the Napoleonic era, old master and other European prints, and Canadian prints, both historical and contemporary. There are also significant holdings of nineteenth-century caricatures, Japanese woodblock prints, optical views, religious chromolithographs, and American historical prints.
A large collection of posters, housed with the Print Collection, is strong in those from the two World Wars, and in travel posters from the 1920s to the 1960s. To view the Canadian War Poster Collection website, please click here.
---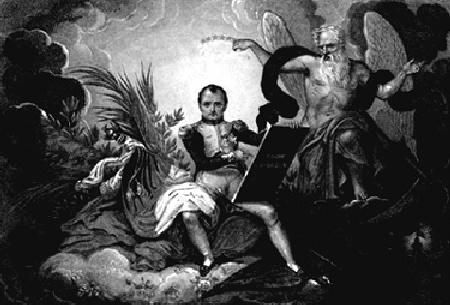 La Gloire et le Génie du Grand Homme. Anonymous. Paris: Chez Dubreuil.
The approximately 3,750 historical prints concerning Napoleon and his era include numerous portraits of Napoleon, members of his family, and generals and other associates, scenes of military and political events, caricatures, and allegorical representations. Scenes glorifying Napoleon and his soldiers by some of the most important French printmakers of the Napoleonic Era, artists such as Vernet, Charlet, Géricault, and Raffet, are well represented. There are also numerous caricatures attacking Napoleon by British artists such as Gillray, Rowlandson and the Cruikshanks, as well as by anonymous continental artists, most notably German and French. A collection of books on Napoleon in the Division numbers approximately 2,275 volumes.
Description: McGill University. Department of Rare Books and Special Collections. What was thus by chance begun ... : the Napoleon Collection of McGill University: selected prints and illustrated books, edited by Carol Solomon Kiefer. Montreal: [McGill University], 1991.
---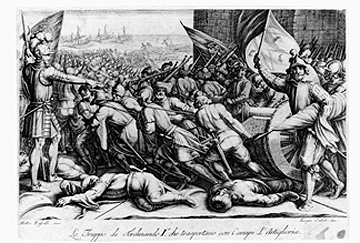 The Re-embarkation of the Troops 1614 . Jacques Callot (1592-1635).
The European section of the Collection, consisting of over 2,000 prints, includes works by some of the most renowned figures in the history of prints, such as Albrecht Dürer, Jacques Callot, Giovanni Battista Piranesi, and Wenceslaus Hollar. Modern European printmaking is represented by works by Stanley Anderson, Seymour Haden, Albert Besnard, Edgar Chahine, Felix Braquemond, and others. This varied collection of European prints, assembled over many years by donation and by purchase, provides an opportunity for students, teachers and scholars in Art History and other disciplines, to engage in original research on the works of individual artists, movements, and periods.
Description: From Dürer to Daumier. European Prints from the Collection of McGill University. Edited by Carol Solomon Kiefer. Montreal: McGill University, Dept. of Art History, 1993.
---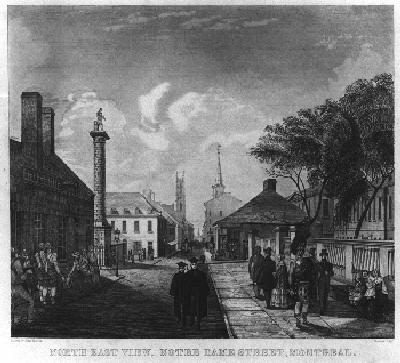 North East View of Notre Dame Street, Montreal. Adolphus Bourne after John Murray, c.1843-44.
The Print Collection includes approximately 1000 Canadian prints. Historical prints include Hervey Smyth's Six Views of the Most Remarkable Places of the Gulf and Rivers St. Lawrence (published in 1760), Richard Short's Twelve Views of the Principal Buildings in Quebec... (1761), a hand-coloured set of twenty-three lithographs, Sketches in the Canadas, (1840) after drawings by Coke Smyth, and a set of four Montreal street scenes, drawn by John Murray and engraved and published by Adolphus Bourne in the early 1840s. Besides historical prints, the Collection includes work by a number of contemporary Canadian artists such as Claire Van Vliet, Frederick Taylor, David Silverberg, Doreen Lindsay, John Benn, and Vera Frenkel. There are also Canadian historical prints in the Lawrence Lande Collection of Canadiana.
---



---
Last modified 97/4/25.