---
The collection of manuscripts, private papers and archives is a large and varied one. On the one hand, it includes complete codices, significant fragments and single leaves of book manuscripts from the European, the Near Eastern and Indian traditions. On the other, it includes private papers and archives documenting many subjects, sometimes with only a single item but often in some depth with a number of interrelated holdings. In particular, Canadian literature, Canadian history, British history, English literature, French history and literature and the history of the book should be mentioned.

The oldest items in the collections are four Oxyrhynchus papyri documents in Greek, the earliest dated 158 A.D. There are a number of other Greek manuscripts in the collection including two gospel books of the twelfth and thirteenth centuries, and some later manuscripts both religious and secular. There are three Coptic manuscripts, the earliest a vellum palimpsest fragment of a magical text possibly of the sixth century. As well, there are a number of late Ethiopian and Armenian manuscripts, one Syriac codex, six Hebrew manuscripts including three of the thirteenth and fourteenth centuries and four Irish manuscripts of the seventeenth and eighteenth centuries.
---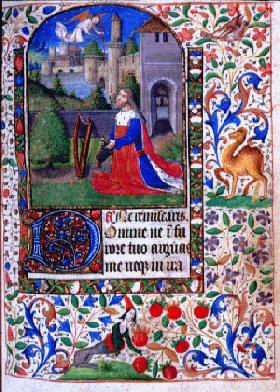 There are some two hundred and twenty-five medieval European manuscript books, including complete texts, fragments of texts, single leaves and initials. These date from the late eighth or early ninth centuries to the eighteenth century. Although Italian material of the fifteenth century predominates, there is also French and German material and some English and Spanish. Most of the manuscripts are liturgical and devotional: the collection holds seven books of hours and three offices of the Blessed Virgin Mary, two breviaries, an altar missal, a book of Franciscan office collects, an epistlebook, an antiphonal and fragments of many others. But, as well, there are some philosophical, homiletic, theological, scientific and literary texts. Among these, mention should be made of two redactions of Peter Riga's "Aurora", commentaries on Aristotle, Bernard Silvestris' "Megacosmus et microcosmus", and late copies of Cicero and Ovid. Finally, in addition to the manuscript codices there is a considerable number of charters, papal letters and legal documents primarily from the fifteenth, sixteenth and seventeenth centuries.
---
The Islamic manuscripts fall into three groups: Arabic, Persian and Turkish. The Arabic manuscripts, some thirty-three codices, are mostly Korans and tracts on Sufiism and Shiite sects. In addition, there is a collection of over two hundred pieces of Arabic calligraphy. There are some thirty-five Persian codices, primarily poetry, and about a hundred separate leaves, many containing miniature paintings. Among the latter is one leaf dated to the thirteenth century and a leaf from the Demotte "Shahnama", c. 1350. Finally, there are four Turkish manuscripts, mostly histories and two Malay manuscripts.

Descriptions of the Arabic manuscripts will be found in Adam Gacek, Arabic Manuscripts, Fontanus Monograph Series I, Montreal: McGill University Libraries, 1991 and "Arabic Calligraphy and the 'Herbal' of al-Ghâfiqî: A Survey of Arabic Manuscripts at McGill University" Fontanus vol.II (1989), 37-53; Early Qur'anic Fragments" vol.III (1990), 45-64; and "A Collection of Qur'anic Codices" Fontanus vol. IV (1991) 35-53.
---
The Indic manuscripts cover a variety of languages and traditions of India and Southeast Asia. There are approximately two hundred texts in Sanskrit, Pali and other languages. Both Hindu and Buddhist religious texts are represented as well as some secular texts. Almost half of the collection is composed of palm leaf manuscripts (olas).
---
The collection holds a number of interesting Italian manuscripts from the late fifteenth to the early nineteenth centuries. These include literary, historical and theological works and some archival material (primarily of the sixteenth century). For example, there is a late seventeenth century copy of Niccolo Machiavelli's Il principe; two eighteenth century translations of Lucretius' De rerum natura (Delle nature delle cose), one of which is by Alessandro Marchetti; a copy of "Esercizi spirituali", 1571, attributed to the Jesuit general Claudio Aquaviva; and a series of legal documents, 1541-1583, concerning the Capacci family of Siena.
---
A representative selection of the papers of nineteenth and twentieth century Canadian authors is held among the private papers and archives. This material includes single items, small bodies of private papers and a number of large archives for both major and minor figures. The holdings are particularly strong in poetry.

Among nineteenth century authors whose papers and manuscripts are present in the collections are Charles Sangster (1822-1893) and William McLennan (1856-1904). The papers of Henry J. Morgan include his interleaved and annotated copy of the Bibliotheca Canadensis as well as extensive correspondence. There are small holdings for many of the literary figures of the late nineteenth and early twentieth centuries associated with William Douw Lighthall (1857- 1954) such as Charles G.D. Roberts, William W. Campbell, Archibald Lampman and Duncan Campbell Scott. The papers of W.D. Lighthall contain long series of correspondence with many of them as well as documentation on his own activities.

The Stephen Leacock (1869-1944) papers include many of the original manuscripts and some typescripts of many of his stories and books. As well, there is some correspondence, both outgoing and incoming. The Leacock collection also encompasses a number of subordinate collections directly related to Leacock. These include the Gordon Glassco, James Keddie and British and International Press Ltd. papers. The Leacock book collection is described under the Canadian Literature section.

The collection also holds the papers of a number of other twentieth-century Canadian authors. The Hugh MacLennan papers include correspondence, two unpublished novels, the drafts of Two Solitudes and The Watch that Ends the Night, and many articles. The papers of Dorothy Duncan include Hugh MacLennan's letters to her, unpublished manuscripts and material relating to her published works. The John Glassco papers include much of his early work, the "Intimate Journal" 1934-1961, and correspondence. The Bryan McCarthy papers include correspondence, the Booster and Blaster records and much of his work from the 1960s. Another Canadian poet for whom there is recent material is Raymond Souster, and the collection also holds the papers of Christopher Dewdney. Among other modern authors who should be mentioned are Milton Acorn, Patrick Anderson, Cathy Arthur, Leslie Gordon Barnard (1895-1961), George Bowering, Ann Diamond, John Donlon, Deborah Eibel, Judith Fitzgerald, Michael Harris, Steven Heighton, Penny Kemp, Colin McDougall, Joseph E. McDougall, Malcolm Miller, Ken Norris, Julian Samuel, Stephen Scobie, Sharon Thesen and Bruce Whiteman. Records of Quarry Press and Muses' Company are also held. The papers of the Canadian-born critic Leon Edel (1907-) include not only material for his work on Henry James, but much correspondence concerning Canadian literature.


A description of the Lighthall papers will be found in Richard Virr, "Son of the Great Dominion: W.D. Lighthall Family Papers" Fontanus vol. II (1989), 103-109. Return to Index
---
The holdings of private papers and archives relevant to Canadian history are extensive. They can be grouped under a number of subjects: the fur trade and early business papers, family papers, politics etc.

The fur trade and early business papers include the Masson Papers (1778-1837) which regroup the journals and papers of many of the people associated with the North West Company. The papers of Thomas Blackwood, William Grant, Joseph Frobisher, John MacDonald of Garth, Simon McTavish and James McGill are all primarily concerned with the fur trade. For the latter half of the nineteenth century, the papers of James Bissett document the activities of the Hudson Bay Company. Closely related to this material are a number of small collections concerning the attempt of Lord Selkirk to settle colonists on the Red River. Also concerned with Western Canada are the W.B. Cheadle papers (1843- 1904). Other early business papers include the shipping registers and other records of the St. Lawrence Steamboat Company (1819- 1838,1892).

There are a number of important series of family papers. The de Léry Macdonald papers (1633-1871) document the important seigneurial families Chartier de Lotbiniére, Rigaud de Vaudreuil, Harwood, Lefebvre de Bellefeuille, Lemoyne de Longueuil, Lambert Dumont and allied families. Other families for whom there are significant holdings include the Rhodes, Morgan, Lighthall, Wicksteed and Panet families. The Dashwood papers concern the proposed purchase of the seigneury of Longueuil. The legal papers of the Montreal lawyer Frederick Griffin include much material on Montreal families and businesses from c. 1830-1880.

Canadian political history is represented by a number of collections. The Herman Witsius Ryland papers include copies of much early official correspondence particularly to Sir James Craig (1810-1815). The papers of Thomas Storrow Brown contain information on the Rebellion of 1837, while those of John Rose cover various political topics (1836-1867). The papers of Sir Herbert Ames (c. 1895-1915) are primarily concerned with Montreal civic politics. On the other hand, the papers of George Washington Stephens (1866-1942) document both his activities on the Montreal Harbour Commission and on the governing commission of the Saar established by the Allied powers after the 1st World War. The early history of the Cooperative Commonwealth Federation and the organization of the New Democratic Party in Qu'bec (1941-1965)is documented in the material collected by Michael K. Oliver. The relations between the C.C.F. and the Roman Catholic bishops in the 1940s are recorded in the Murray Ballantyne papers.

Other material of interest for Canadian history includes the records of the Council of Christian Education of the Province of Québec (1836-1966) and the papers of Christopher Dunkin on education in Québec in the 1830s and 1840s. Finally, note should be taken of the manuscripts and papers of William Kingsford and other Canadian historians.
---
The collection holds three large archives of British political papers and a number of smaller collections and single manuscripts covering the period from the late Middle Ages to the early twentieth century. Some of these materials are copies of official documents and others are private papers, and there are a number of interesting eighteenth-century collectanea containing material from earlier periods.

The papers of Henry Hardinge, 1st Viscount Hardinge of Lahore (1785-1856) include correspondence, documents, memoranda and reports (1803-1856) documenting his activities as clerk of ordnance, Secretary of War, Irish Secretary, Governor-General of India and Commander-in-Chief in succession to the Duke of Wellington. There is information on the defence of the colonies including Canada and on the Carlist wars in Spain. There is a small collection of the papers of the Duke of Wellington that complements the Hardinge papers. For the nineteenth century there are also a number of ships' logs, travel journals including that of James Dennison recording the mission of Lord Amherst to China in 1816-1817), campaign journals and diaries including that of Captain Johnstone recording events in Ceylon in 1803 and 1804. There is also some material relating to the Napoleonic wars and serves to complement the Napoleon Collection.

Twentieth-century material includes two important political archives. The papers of Noel Edward Buxton, 1st Baron Noel-Buxton (1869-1948), a Liberal and later Labour politician, include correspondence, documents, memoranda and notes on various topics such as the Balkans, slavery, colonialism and international peace (c. 1900-1947).

For a description see Robert Vogel, "Noel Buxton: The 'Trouble- Maker' and His Papers" Fontanus vol III (1990), 131-150.

The papers of the Conservative politician Carlyon Wilfroy Bellairs (1871-1955) reflect his interest in naval and defence matters, and his involvement in the Beresford-Fisher controversy about the reform of the Royal Navy in the years before the 1st World War. Bellairs was associated with the New Party of Sir Oswald Mosley in the 1930s. Other modern material includes a series of letters (1900-1921) written by Henry Mayers Hyndman (1842-1921) to Mrs. Cobden-Sanderson on international socialist politics.
---
The collection's holdings of English literary papers are diverse. The earliest item is four leaves from a fifteenth-century copy of John Lydgate's translation of Boccaccio's The Fall of Princes. The rest of the material is of a much later date, primarily of the eighteenth, nineteenth and twentieth centuries. Poetry, including some anonymous collectanea, is especially well represented. For example, there is an interesting early eighteenth-century manuscript containing a version of Yarico to Inkle: An Epistle often attributed to Edward Moore. As well, there are authors' manuscripts of plays, novels and short stories, and some correspondence. The following names are representative of the collection's holdings: Rudyard Kipling, John Ruskin, Robert Southey, Hannah More, Charles Dealtry Locock, Jane Porter, Arnold Bennett, Wilkie Collins, Robert Nichols, Charles Kingsley, Martin Hume, Edgar Jepson (on Ernest Dowson), Samuel Butler and William Henry Wills.
---
The collection contains a variety of materials documenting French history and literature. There are a number of fragments of early French literary texts including two leaves from a copy of the "Chevalier du Cygne" dated c. 1300. There is a copy dated c. 1660 of the "Receul [sic] des actes de tous les Sinodes Nationnaux...au Royaume de France", 1559-1660. There are also six volumes of "Extracts concernant les Antiquités Françaises" by Jean Baptiste de la Curne de Sainte Palaye (1768) and a copy of Henri de Boulainvilliers "Essay de metaphysique dans le principe de B*** de Spinosa" (c. 1700). As well, there is a variety of documents concerning the Revolution and more particularly Napoleon. Note should also be made of the letters of Julie de Vietinghoff, Baronne de Krudener, of Juliette Lamber Adam and of Ernest Renan.
---
There is a great variety of material (Canadian, English and European) in the collection documenting the history of the book. In addition to a number of single items and small collections including a copy of the will of Thomas Bewick's daughter Isabella (1883), a letter of Jean Baptiste Bodoni (1792), a letter of Fleury Mesplet (1789), and two letters of Brown and Gilmour (1768), there are a number of large archival collections. Of particular interest are the papers of the English book designer Christopher Sandford (c. 1926-1960) and the closely related collection of Golden Cockerel Press papers (1937-1955). The papers of Robert Russell Reid document the work of this Canadian typographer for the period 1945-1973. There is a small body of material documenting the career of Thoreau MacDonald as a book illustrator. As well, the collection holds the business papers of the Montreal bookseller William P. Wolfe (ca 1960-1980).
---



---
Last modified 97/4/25.